Anno Domini presents...
Auroral Dreaming new sculptures by Derek Weisberg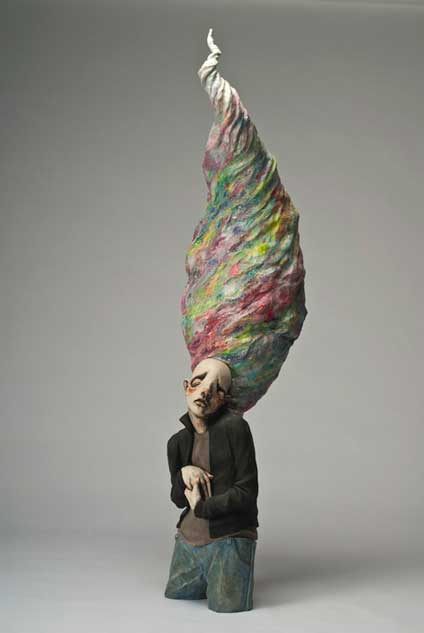 That Which My Eyes Wish to See, ceramic and mixed media, 58" x 13" x 19", 2010

photo credit: Ira Schrank

Derek Weisberg returns to Anno Domini for his second solo exhibition with a brand new body of ambitious and courageous work. Weisberg continues to examine his own life and the world around him, attempting to answer questions, which have plagued humans since the beginning of time.

The work was made with attempts to reconcile the passing of his mother, and address ideas of life and death. This new body of work does this thru combining bright colorful cosmic abstractions, which the artist calls "spirits", with the somber earthly Baroquial figures. The sculptures become personifications of life and death, the soul and body, presences and absence, form and formlessness, existentialism and spiritualism. The work coalesces these ideas and Weisberg creates an interconnectedness and oneness of these seemingly dualistic ideas.

Weisberg's works deal with his personal life experiences and address issues of memory, grieving, transcendence and finding truth. However, the work poignantly speaks to the atmosphere of the world and to our time with all its problems and has a further reaching, deeper, and universal effect.

Solo Exhibition February 4 - March 19, 2011

Artist's Reception: February 4th, 7-11pm
Live music by Suzanne Vallie



Artist's Reception is part of the South FIRST FRIDAYS monthly art walk, February 4, 2011. View the full schedule of exhibitions at participating venues: http://www.southfirstfridays.com


LOCATION & HOURS

Anno Domini // the second coming of Art & Design
366 So. First Street map
San Jose, CA 95113
408.271.5155
www.galleryAD.com

Gallery Hours:
Tuesday through Friday, noon - 7 p.m.
Saturday, noon - 5 p.m.