Guerrero Gallery
"Lamplighter to the Promised Land"
New Works by AJ Fosik
Opening Reception:


Saturday, November 10th


7pm - 11pm


Runs through December 8th, 2012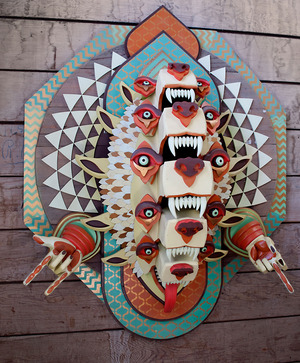 < Link to Private Preview Page >
Guerrero Gallery is proud to present, Lamplighter to the Promised Land, an exhibition of new sculptural works by AJ Fosik. By transforming and elevating the simple materials of wood, paint, and nails into wondrous and glorified creatures, Fosik explores and challenges the concept of belief as virtue. The transformation process serves as a metaphor for the hucksterism of the holy classes.
Consisting of hundreds of individually cut pieces of wood, vividly varnished and strategically placed, each of Fosik's pieces undergoes full woodshop gestation, a trade he taught himself. Evocative of American Folk Art, drawing inspiration from a wide range of cultural backgrounds and religious iconography, his sculptures are "existential fetishes." They are abstractions of multiple systems' definition of the unknown, intended to shake complacency and challenge preconceived notions of faith and its power, through genuine scrutiny. According to Fosik, his creatures "stand as a reminder that dogma is a corruption of the creative impulse." In the same vein though, they are "a celebration of the power and potential of human ingenuity and creativity."

AJ Fosik grew up in the shadow of Detroit, Michigan's rusting, post-industrial corpse. After attending school at Parsons School of Design, Fosik repeatedly uprooted himself, moving all over the United States. He has lived in Brooklyn, Detroit, San Diego, Denver, Philadelphia, and now Portland – allowing each place to add to his repertoire of influences. Lamplighter to the Promised Land, is AJ Fosik's second show at Guerrero Gallery.


•••



---
In the Project Room
The New Works of
Daniel Albrigo
Guerrero Gallery is proud to present, an exhibition of new works by Daniel Albrigo.

Albrigo's series of illustrations started with an examination of an image he grew up with - Felix the Cat. Through his creative process, he found that he became less concerned with the character's body and more focused with its smile. Felix's smiling face, and the classic Americana happy face also included in this collection of works, were the elements of his illustrations that Albrigo felt to be most impactful. The smile is a symbol that everyone can recognize and identify with, in good times and bad. These works present a deconstruction of the basic shapes of the happy face, and an exploration of how to use then in a new way. In Albrigo's words, "Positive brings positive."

Daniel Albrigo was born in Pomona, California, and currently lives and works in New York City. He tattoos by day and paints by night, in his studios in Williamsburg, Brooklyn.