2 great shows opening Saturday, April 14th (7-11pm) at SF's Guerrero Gallery featuring Erin Riley (check our 2011 mini interview) and Hilary Pecis.
Hilary Pecis makes beautiful collages from Google image searches while Erin Riley also uses Google image search to source images from which she then creates wooven tapestries from. Incredible works. See for yourself.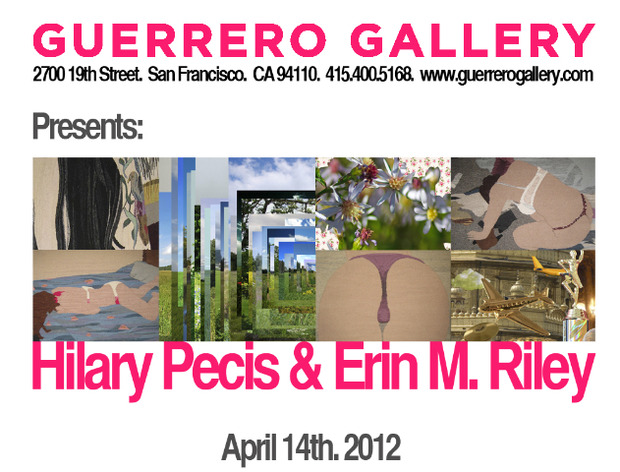 Opening Reception: Saturday, April 14, 7-11pm
Show Dates: April 14 - May 5, 2012
Guerrero Gallery is pleased to present Consensus, an exhibition of new works by Hilary Pecis. Made up of collages composed from 100 unaltered image files sourced mainly from Google Images, this body of works examines Pecis' interest in the variety and association between images and these singular words or phrases, as dictated by the internet.

The idea that media has sculpted an idyllic image for every experience or imagined experience is aparent. A search for "Meadow" results in multiple images that look almost identical, where the horizon lies just below midpoint with the top half blue and the bottom half green. A search for "Heaven" conjures up a wider spectrum of imagery, with the majority having a muted palette, clouds, and a bright spot. These associated images layered together result in an inability to see any or all of each image, but the ghosting imagery and general sentiment still shines through.

For some word searches, Pecis' selects source images that were of the same color and size, but seemed to not match the word. For "Cardboard", she utilizes imagery of pizza and pallet. By manipulating these images to form a combination of the two, her attempt to create an association between them is evident. Her works spotlight the media's ability to influence and sometimes distort our perceptions, through a flood of readily available information.

Hilary Pecis is a native Californian, having received both her MFA and BFA at California College of the Arts. She has exhibited her work at Catherine Clark in San Francisco, Roberts and Tilton in Los Angeles, Morgan Lehman in New York, Western Exhibitions in Chicago, and Galleria Glance in Turin.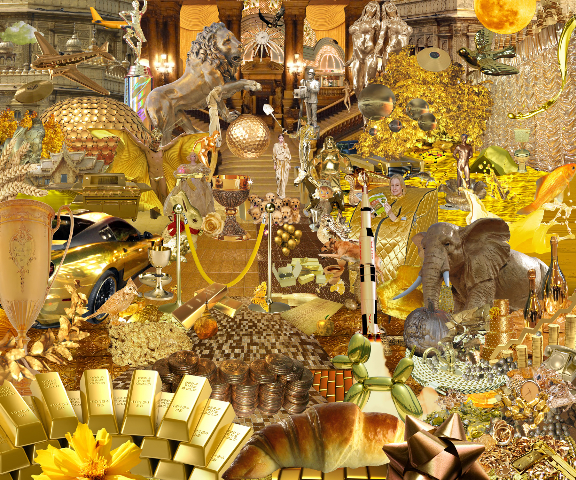 Hilary Pecis, "Gold", Giglee print, edition 1 of 5, 30in x 36in, 2012
Guerrero Gallery is pleased to present Forgotten in a File, an exhibition of new works by Erin M. Riley. Riley's tapestries, woven from a Macomber floor loom with hand-dyed wool yarn, are inspired by imagery produced by the internet generation. Through her works, she explores how social networking, tied to photo sharing, has resulted in an addictive need for new imagery, recognition through "likes", and the desire for conversation through comments. Riley believes that a dependence on traffic flow, constantly posting and looking for more, and the highs and lows of this image attention, produces tendencies that are similar to impulse control disorders.

Drawn to images of self-discovery, experimentation, regression, and development, her works depict a generation of excess and confusion. In some pieces, she depicts sexual objects, obsessive objects (tweezers), and drug & alcohol implements, all of which correlate to the ways some young women are dealing with the pressures of an image saturated culture. In the context of sexuality and the ways women present themselves, the idea that self-pleasure and self-hate have the ability to provoke the same guilt is brought to our attention. Affected by the new images readily available on the internet daily, ideas of sex & sexuality are being altered, and relationships & courting are becoming a visual dialogue utilizing images to express feelings and sustain interest.

Riley's work is always personal, relating to the things happening in her own life or her family's. It is a misconception that she is laughing at the women in her pieces, as she weaves her tapestries to commemorate the moments when life knocks us down and we get back up. She subverts images representative of flaws, insecurities and weakness, which were never meant for mass consumption, into symbols of beauty, independence and strength. She is interested in the small moments and objects in life that are pivotal in altering a one's life, either instantly or slowly over time, and how these moments and objects become coping mechanisms as time goes on.

Erin M. Riley received an MFA from the Tyler School of Art in Philadelphia, where she currently lives. She has shown her work at the Fleisher Art Memorial and Bambi Gallery and in Philadelphia, Sky High Gallery in Milwaukee, Deer Run Artifacts in Cambria, and Helene Davis Gallery in Virginia. Erin has been an artist in residence at The MacDowell Colony and Bemis Center for Contemporary Art.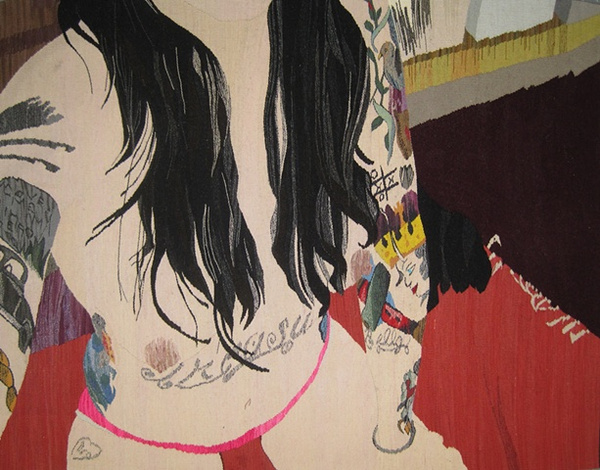 Erin M. Riley, Self-Portrait, Hand woven wool tapestry, 61in x 48in, 2012