FOR IMMEDIATE RELEASE :
Ray Caesar
+
Erik Mark Sandberg
: two solo exhibitions at
Jonathan LeVine Gallery
.

Website will be live on Saturday, January 22nd.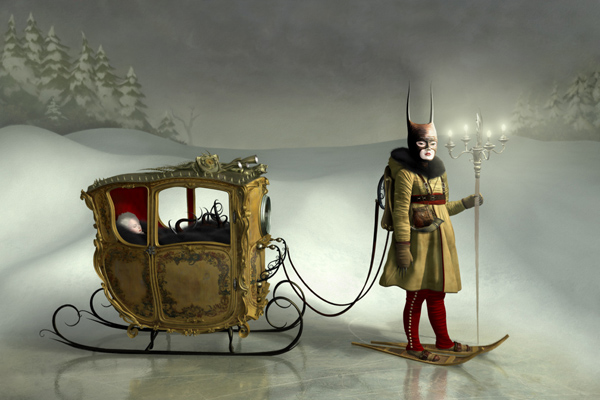 Ray Caesar
A Gentle Kind of Cruelty
Solo Exhibition
Jan 22—Feb 19, 2011
Opening Reception:
Saturday, Jan 22, 6—8pm

NEW YORK, NY (November 1, 2010) — Jonathan LeVine Gallery is pleased to present A Gentle Kind of Cruelty, new works by Toronto-based artist Ray Caesar in what will be his fourth solo exhibition at the gallery. The show will feature printed multiples as well as several large-scale, original, one-of-a-kind prints. Caesar expands upon his signature aesthetic in this exhibition by taking a more painterly approach, rendering new imagery with softer edges and greater movement than in previous work. The artist's digitally created dreamscapes, set in elaborately furnished Rococo-style interiors, feature haunting doll-like female figures with delicate features and porcelain complexions. The hybrid characters, part-child-part-woman, some sprouting tails, tentacles and other animal appendages, all wear elaborate costumes that reference fashions of the past and often incorporate futuristic elements as well.

Caesar works in Maya (a 3D modeling software used for digital animation effects in film and game industries), using it to create his figures as well as the virtual realms in which they exist. Through the program, he builds digital models with invisible skeletons and anatomical joints that can be bent and manipulated to assume any pose. He wraps the models in rich textures, adding hair, skin, eyelashes and fingernails. Then places them in digitally lit, impeccably detailed 3D environments built with architectural layers, windows, wallpapers, curtains and furnishings. Caesar's meticulous process incorporates elements of drawing, painting, collage and sculpture, working countless hours to achieve every remarkably intricate tableau. Further emphasizing his sculptural technique, Caesar compares his process of 2D printmaking with imagery created in 3D as being similar to the practice of capturing stills from video and film.

With full control over dressing, posing and lighting his figures as well as every element of their surroundings, Caesar's craft is an advanced extension of a childhood obsession—playing with dolls. Fantasy, escapism, human cruelty and disguise are reoccurring themes explored within his dramatic narratives. Betraying the seemingly child-like innocence of the figures is their piercing, knowing gaze—exposing inner strength in contrast with their fragile physical appearance. Dark details manifest from deep within the artist's vast imagination to define simulated realities, transporting the viewer into sanctuaries created for his lost ghost-children who emerge from shadows into safe refuge, carrying macabre secrets and hidden truths.

ABOUT THE ARTIST
Ray Caesar was born in 1958 in London. At an early age, his family moved to Toronto, Canada, where he currently resides. From 1977—80 he attended Ontario College of Art, followed by 17 years from 1980—96 working in the art & photography department of the Hospital For Sick Children in Toronto, documenting disturbing cases of child abuse, surgical reconstruction, psychology, and animal research. Coupled with inspiration from surrealists Kahlo and Dali, Caesar's experiences at the hospital continue to influence his artwork. His haunting imagery is created digitally using 3D modeling software called Maya, mastered while working in digital animation for television and film industries from 1998—2001. In 1999, Caesar received a Primetime Emmy Nomination for Outstanding Special Effects in a series.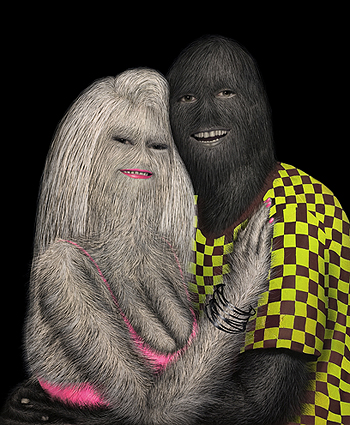 Erik Mark Sandberg


Get Pretty Now
Solo Exhibition
Jan 22—Feb 19, 2011
Opening Reception:
Saturday, Jan 22, 6—8pm
NEW YORK, NY (December 20, 2010) — Jonathan LeVine Gallery is pleased to announce Get Pretty Now, new works by Los Angeles-based artist Erik Mark Sandberg in what will be his second solo exhibition at the gallery. Get Pretty Now includes mixed media paintings, sculpture and works on paper, combining a variety of materials such as resins, enamels, oils, inks, acrylics, digital collage and photographs with various printmaking techniques.

Sandberg's portrait series depicts anomalous figures whose features are obscured by a thick coat of colorful hair, wearing fluorescent-colored clothing with loud, graphic prints. His abstract paintings are equally striking, vibrant and texturally rich, complementing hues and patterns of the hairy subjects in his figurative works.

Cultural dichotomies are a source of inspiration for much of Sandberg's imagery, and his use of hair is (in a broad sense) a visual metaphor for their effects. In the artist's own words: "My work investigates the psychological effects of trying to achieve smoke and mirror standards of beauty, standards that run in opposition to contemporary mass-consumed food advertising." His bold color choices, while mainly intuitive decisions, also offer conceptual reinforcement. On the subject of palette, the artist says: "Fluorescents and neons have a very manufactured, artificial quality. They're exotic, living outside of the normal spectrum."

Thematically, the artist explores consumer culture, celebrity idolatry and social dysfunction in the digital age, with a focus on the relationship between projected idealized archetypes and their unattainable emulation. In some of the work, references are made to narratives (in the more extreme, degrading vein of) contemporary Hip-hop music, and its paradoxical airing on mainstream radio sponsored by product advertisements carrying affectations of family values. Sandberg has a keen interest in these phenomena and how everyday people become victims of what he refers to as consumer Stockholm syndrome.

ABOUT THE ARTIST
Erik Mark Sandberg was born in 1975 in Farmington, Minnesota, and currently resides in Los Angeles. In 2002, he received a BFA with distinction from Art Center College of Design in Pasadena, California. From 2003—2007, he studied with former Gemini Gel Master Printer Anthony Alan Zepeda. In the years since, he has achieved steady success in the fields of Fine Art and Illustration, receiving numerous grants and awards. From 2006 to present, Sandberg has taught concurrently at Art Center College of Design in the printmaking department, OTIS College of Art and Design and California State University, Northridge.
ABOUT JONATHAN LEVINE GALLERY


Jonathan LeVine Gallery exhibits a genre of work influenced by illustration, comic book art, graffiti, street art and pop culture imagery. We represent a mix of emerging and mid-career artists with an emphasis on cultivating new talent and creating an environment where artists can further develop their work. Since 2005, the first year established in New York, Jonathan LeVine Gallery has remained focused on maintaining its mission of community and commitment to providing our artists with a nurturing arena for experimentation and discussion. The gallery is located at 529 West 20th Street, New York, NY 10011. Gallery hours are Tuesday through Saturday, 11am to 6pm. For further information, please visit: www.jonathanlevinegallery.com,
call: 212.243.3822, or
email: info@jonathanlevinegallery.com.