Philly's Thom Lessner & recent CCA MFA grad William Emmert open the 2 person show "Summer Slam" this Saturday at Guerrero Gallery (7-11pm). ~show details
Thom Lessner we've known for years and was actually in our first Arty Party we held in Oakland back in 2000. Wow, time flies... And we mini interviewed William a couple years back. ~read & look-see.
"Summer Slam"
New Works by:


Thom Lessner & William Emmert
Opening Reception: Saturday, July 14th | 7pm to 11pm
Show Dates: July 14th - August 4th, 2012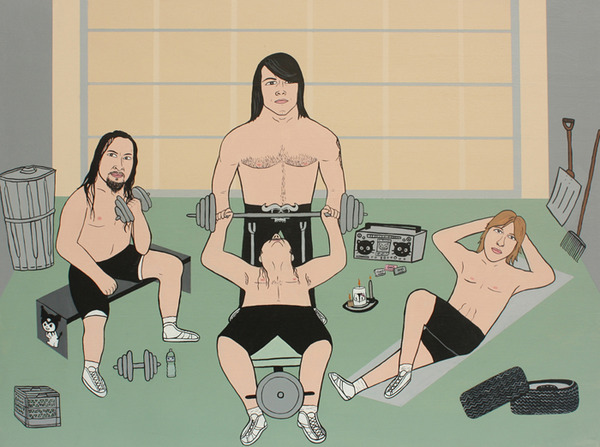 Thom Lessner, "Danzig in the Garage", 2011, Acrylic on Wood Panel
Guerrero Gallery is pleased to present Summer Slam, an exhibition of new works by Thom Lessner and William Emmert. The unique works on display include paintings, painted paper sculptures, and hand sewn felt signs. Lessner's work draws a good deal of influence from 1980s popular culture and rock bands, while Emmert's work does so from 1990s pop culture and professional wrestling. Whether it's references to caricatured rock gods, teenage collections, the artist studio, or hand made fan signs, the works serve as stand-ins holding the place for a desired myth while also paying homage to personal heroes.
Thom Lessner
Thom Lessner is a native Ohioan currently living in Philadelphia. Thom's parodied renditions of 80s pop culture figures have become his signature style. Thom is an ardent skateboarder and rock n' roll star in the costume-clad band Sweetheart. Thom has done work for and with POKETO, Shepherd Fairey, and a multitude of magazines including Thrasher, Vice, Swindle, and Spin. Thom's works have traveled to Los Angeles, New York, and internationally. Summer Slam will be Thom's first show in San Francisco since 2005.
William Emmert
William Emmert was born in 1985 and is originally from Seattle. William's work lives in a space between the escalating expectations of the viewer and the ever decreasing plausibility those expectations will be met. What is one really looking for and why? Emmert is locked into a method of making which continues to unpack and reveal the complex relationship between the imaginary and the real. Memories serve as a gateway to create objects that function as props for a posthumous retelling of an average history made extraordinary. Emmert's work shows the role of the fantastic in our obsession with individuality and our confusion with identity. He creates epically beautiful failures, which admittedly can't live up to their image. William received his MFA from California College of the Arts.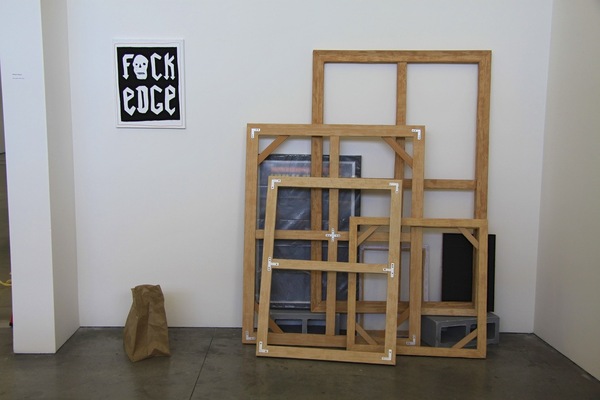 William Emmert, Installation View, CCA Graduate Show, 2012
"Zones"
New Works by:


Jon Bocksel
Opening Reception: Saturday, July 14th | 7pm to 11pm
Show Dates: July 14th - August 4th, 2012
The Project Room in July will feature Zones, an exhibition of works by Jon Bocksel. In this series of works, the artist creates paintings from the "archaic" art form of hand painted typography. This show will run as an extension of the Luggage Store Gallery's Streetopia Exhibition, for which Jon took a pushcart to the streets of the Tenderloin District to conduct a social communication experiment that played with concepts of the dissemination of information through personalized, hand painted signs.
Jon Bocksel
Jon Bocksel was born in 1983 in Queens, New York. His works are inspired by words encountered in daily life, newspaper headlines, and graffiti. His works provoke viewers to both read and look at the deeper social issues connected within the words. His work has been reviewed by Color Magazine, Jettison Quarterly, Williamsburg/Green point Art News, Juxtapoz, and the New York Times. Jon received his BFA from Pratt Institute in 2005 and calls Brooklyn home.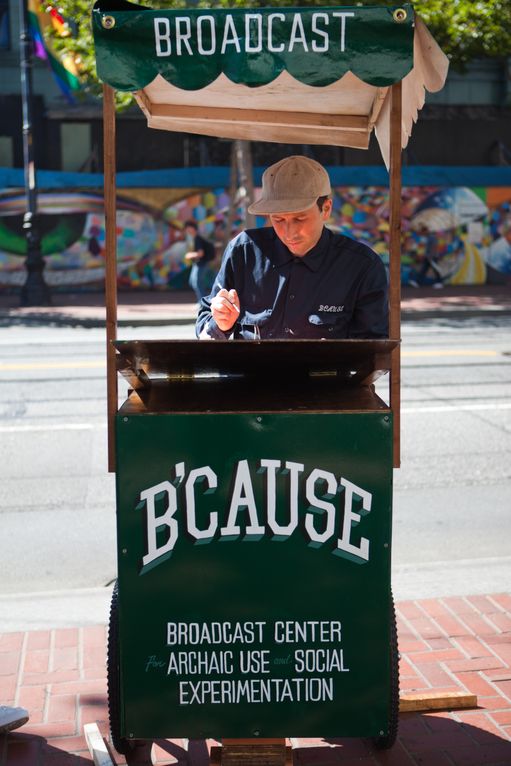 Jon Bocksel, "Street Cart", Performance Piece, 2012