Opening Reception: Saturday, March 10th, 7-11pm
Show Dates: March 10 - April 7, 2012



The Brinksman
by Cleon Peterson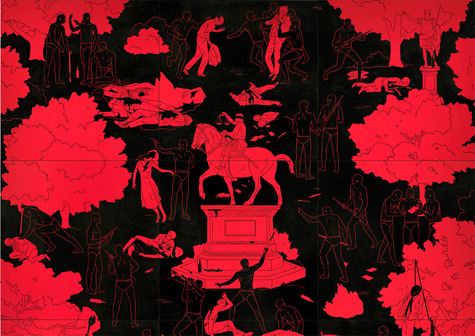 Guerrero Gallery is pleased to present The Brinksman, an exhibition by Cleon Peterson. Through his paintings, we encounter a world riddled with anxiety, corruption and savage ferocity, where deviance and violence equal the usual state of affairs. Peterson describes his bedlam as "a gray world where law breakers and law enforcers are one in the same; a world where ethics have been abandoned in favor of personal entitlement."

Peterson depicts life as war between displaced individuals in a dystopian world. Acts of brutality, abuse and perversion serve as rituals of power, revealing narcissistic indulgences in violence, sex, religion and drugs. In exploring the tension between the individual consciousness and unconscious psyche, Peterson's paintings bring to light the resulting possibilities when varying moral schemes are personified. When faced with the dilemma of fight or flight, it's fight. We observe an ongoing struggle in the thick of a contemporary world, where the instinctual desire to survive through primitive actions takes reign.

Currently living and working in Los Angeles, Cleon Peterson was born in Seattle and received a BFA from Art Center College of Design in Pasadena and an MFA from Cranbrook Academy of Art in Detroit. He has shown at New Image art in Los Angeles, Alice Gallery in Brussels, Joshua Liner Gallery and Deitch Projects in New York.
When You Get Power
by Bill McRight


Guerrero Gallery is pleased to present When You Get Power, an exhibition by Bill McRight. Through a fascination with individuals and groups who depart from the mainstream to exist on the fringes of society, such as soccer hooligans, street gangs, prisoners and skin heads, McRight's invented artifacts symbolically represent the inherent resourceful nature of those choosing to exist apart of the norm.

While using an angle grinder, a drill and a hammer, McRight handcrafts crude stabbing and bludgeoning weapons from old tools and other found materials collected from the streets and flea markets. The process of discovering the materials and determining how to manipulate them is a significant part of his creative process. With old tools having an inherent yet unknown history, McRight utilizes the story visible through the wear on their handles and metal parts to determine how the tool should be reinvented. Through his work, discarded materials are given a new life that is both utilitarian and aesthetically intriguing.

In addition to the shivs, the exhibition features spiked baseball bats and stash books. This body of works considers the fetish of violence and weapons, and examines the reasoning and intensity behind people's interest in collecting weapons, either as tools or as artifacts of time and culture.

Bill McRight received his MFA from Pratt institute and currently lives and works in Los Angeles, CA.

2700 19th Street | San Francisco, CA 94110
www.guerrerogallery.com | ph: 415.400.5168
www.facebook.com/guerrerogallery
Tue - Sat 11am-7pm | Sun 12-5pm