Guerrero Gallery is pleased to announce its October offering, "Something Better," a solo exhibition by Richard Colman and "Well, Time Makes Fools Of Us All," an exhibition by Ryan Travis Christian in the project room. Please join us at the opening reception for both exhibitions:
Saturday, October 16th, 2010
7pm to 11pm
2700 19th Street
San Francisco, CA 94110
www.guerrerogallery.com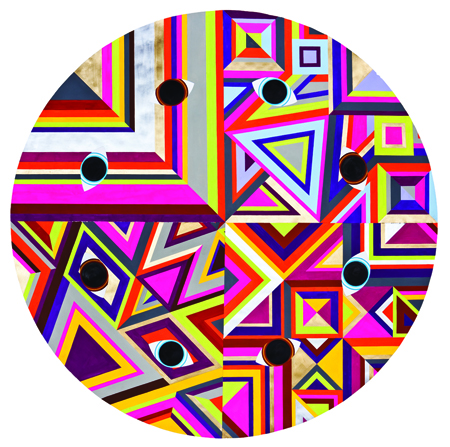 Guerrero Gallery is pleased to bring you Something Better, an exhibition featuring works by Richard Colman. This show explores Colman's ongoing artistic journey through a thoughtful exploration of past themes and styles, re-imagined in a fresh new landscape. Colman focuses on his artistic development and advancement, breaking free of previous idioms, while returning to some of the materials he first used as a graffiti artist in Washington, DC at the beginning of his career. The pairing of familiar elements and themes with new characters and landscapes expresses the artist's belief that the journey never ends and that one should not be content with how things are, but seek ways to make things better and find comfort and gratification in that process.

Colman's work, brightly hued and dense with intricately complex patterns and geometric shapes, abstractly presents theatrical narratives from an alternate world. Drawing influences from Byzantine art and Islamic mosaics, the craftsmanship behind the language he creates through character, symbol and line abstractions seeks to provide a hiding place, a better place, away from the fallacies of everyday life. Provoking escapism and the use of one's imagination, his work, focuses on the interaction between different landscapes rather than on character interaction. Colman challenges his work by either simplifying it or by barraging it with complexity. He creates a beautiful world that is, well, simply complex, and constantly evolving as he is.

Colman was born in 1976 and grew up in Bethesda, Maryland, a suburb of Washington, D.C. Colman graduated from the School of the Museum of Fine Arts, Boston, Massachusetts, in 2002. He has exhibited throughout the world in solo and group exhibitions including the Museum of Contemporary Art in D.C., New Image Gallery in Los Angeles, Krets in Malmo, Sweden, V1 Gallery in Copenhagen, Union Gallery in London, and ARKEN Museum Of Modern Art in Denmark. Colman has completed murals for Coca-Cola, Mattel Toys, and NYNY Hotel, and has been included in publications such as While You Were Sleeping, Arkitip and Juxtapoz. In 2006, Gingko Press released a book cataloging his work titled "I Was Just Leaving." Colman currently lives and works in San Francisco, California.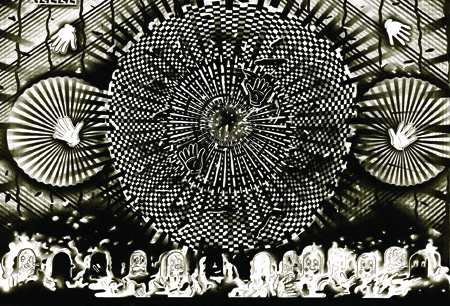 Guerrero Gallery is pleased to exhibit Well, Time Makes Fools Of Us All in our project room, featuring works by Ryan Travis Christian.

Not presented in linear format but based on experiences he's had over the past decade or so, the narratives Christian presents in this collection of works are skewed by memory or lack thereof. The drawings, varying in degree of personal significance, portray themes including but not limited to voyeurism, trespassing, bikinis, flat tires, fainting, taking drugs, shoplifting, yard work, commuting, demons, technology, dying, role playing, hallucination, dreaming, windows, fires, taxes, making love, jobs, choreography, god, fucking in public, and dogs.

Ryan Travis Christian is a Chicago-area artist who works primarily with graphite and ink. His images are constructed using abstract elements (pattern, and organic smoke/vapor like formation), comic utilities (like sub panels and motion lines), and old fashion cartoon iconography. He uses these components to anchor his story and or experiences so he can hopefully connect with a broader audience.